A GREAT deal of noise - much of it meaningless - has beenmade in recent months about the fusion of jazz and rock. In most of the cases where they have amalgamated, however, the two forms have taken to each other like Adolph Hilter and Tariq Ali.
One young guitarist for whom there is virtually no distinction betwee two is Chris Spedding, hero of the Battered Ornaments, the Frank Ricotti Quartet, and Mike Westbrook's larger ensembles.

Foisted
Chris hasn't much time for many of the jazz/rock "experiments" currenntly being foisted on the scene.
"Blood Sweat and Tears, for instance, mean absolutely nothing to me," he says. "All they do is superimpose old cliches on one another, and if the original music was good then they should have left it alone."
Although only 25 years old, Chris has considerable breadth and depth of experience as a professional musician.
He made a faltering start with violin lessons at the age of nine, and it was not until the skiffle craze that he became fascinated by music.
"We used to buy the old Lonnie Donegan records, and we admired people like Denny Wright, the Donegan guitarist. Skiffle really woke me up, and I bought a guitar which I played in groups at school.

Natural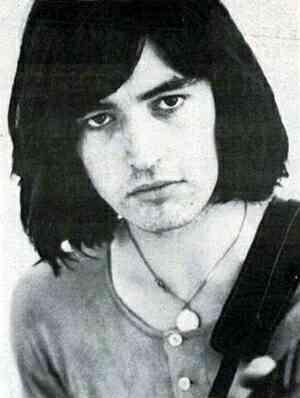 "I wasn't really much good at anything except music, so it was natural that I should make it my career. My parents didn't mind me being a musician - my father plays the organ and my mother sings in a Bach choir - but they didn't really care for the kind of stuff I was playing."
So at the age of 18 young Spedding set out from his Sheffield home to make his fortune in London, and started work selling guitars in a West End music store.
Immediately and characteristically, he became involved in several differing scenes. He gigged round American Air Force bases with a Country and Western band, and met vibist Frank Ricotti - at that time only about 14 years old - with whom he started a weekly jazz club at a pub in Islington.
"We used to book in guest like Dick Heckstall-Smith and Ian Carr, and I expect they thought we were pretty bad. However it was fantastic experience for us to be able to play with these really good people, and the club lasted about six months. The attendances weren't really very good.
"I also wrote a tutor for C&W guitarists while I was working in the music shop, and it was published when I was 18.
"I like all music, as long as it's played well. At school I started listening to Barney Kessel and Jim hall, and later I heard Rollins, Coltrane, and Miles Davis.
Society
"Sometimes I used to go into a record shop and buy a Davis album and a Beatles album, both at the same time. It never occurred to me that there was really any difference and that's how I still feel about it.
"Then I did three years with society bands like Nat Temple, Sid Phillips, and Tommy Kinsman, wearing a dinner jacket and playing at deb dances and Jewish weddings.
"That was very good experience because it taught me a lot of things about music. The guys in those bands can play any song in any key, and tey're really good musicians. I certainly never regret going through that scene, even though some people dismiss it as corny.
Sitting
"I started reading music when I learnt the violin, but I couldn't read guitar parts very well until a couple of years ago. Now I've got it down fairly well, and I've done sessions with Georgie Fame, Alan Price, and Dusty Springfield."
He also began sitting in with people like tenorist Lyn Dobson and trumpeter Henry Lowther in various clubs, and was friendly with bassist Butch Potter and tenorist George Khan.
Through Butch he hecame involved with Pete Brown's Battered Ornaments, who at that time included Dobson and Heckstall-Simith in their line-up. These two later left, to be replaced by Khan.
"The Ornaments have a funny history - and most people misunderstand us completely. We're the only group I know consisting of people who have absolutely no experience with rock groups. So we're experimenting all the time, and we don't really know what we're going to do when we go on the stand.
"This can backfire a bit, like it did in Germany a few weeks ago when we became the only group ever to be sacked from the Star Club in Hamburg.
"They're trying to be more progressive over there now, so we started by playing a half-hour set of pure noise. That stunned them a bit so in the second set we played all the most commercial things we could think of.
"After I'd finished singing 'Sweet Little Sixteen' the manager came up and told me I'd got the words wrong, and we were sacked at the end of the week.
"We have a lot of trouble with recording, though, because we're not big enough to be able to take a studio for a solid week. We have to be fitted in between the big names.
"This makes it difficult for us because we progress musically so fast that we change in the gaps between sessions, and we always want to start everything all over again once we got into the studio."
Spedding and his guitar are notable for their appearance in Mike Westbrook's long piece "Metropolis." Why did Westbrook choose Spedding?
"Westy was looking around for someone who could play rock guitar, and George and Henry Lowther suggested me. I really enjoy it very much, although sometimes I'm not confident enough, and my solos reflect this.
Trouble
"Part of the trouble is that Westy still organises his group along the string-of-solos lines, and I'm not used to that. with Frank's group i solo when I've got something to say, and then I shut up until I feel I want to solo again."
Speaking of guitarists, Spedding says he admires Jim Hall, Pete Townshend, and Jimi Hendrix, and feels that Eric Clapton gave the guitar a new lease of life - "Altough I wouldn't want to play that way myself."
"I try and keep my playing simple when I'm backing someone else. I've been through the Johnny Smith thing with complex chords and so on, but now I just stick to simple things which are most effective. I've spent so much time developing my own approach that I don't feel inclined to alter it for different gigs. I just play my own stuff and it seems to fit."
Written
Among his plans are albums under his own name, for which songs have already written although no details have yet been fixed.
"I see myself as an experimental musician I could never tie myself down to just one thing - my interests are a bit too varied for that."