IT ALL makes much more sense for the Sharks in America.
Listen to Chris Spedding talking:
"After all the hassles we've had in Britain, all the hard times and that ... when we landed in America, even before we played a note, we thoughteverything seemed right, everything fitted. Everything we've been working towards seemed right. And nothing's gone wrong since."
Spedding's the guitarist with the streak in his hair, who talked to me on the condition we printed a fantastic picture of him 'cause he thinks he looks dreadful on the cover of both Sharks' albums ...
Spedding has been with Sharks since their inception just under two years ago, and by joining he had the most to lose in terms of sheer earning-power. He won't say exactly how much he earned as a session guitarist, but he will say his year's earnings then were enough to keep the Sharks on the road for a year now.
I'm talking to him in North Carolina, America - James Taylor country - and the Sharks are touring the American highways for the first time, mostly supporting Mountain.
Incidentally, there've been quite a few tie-ups between these two groups.
For instance felix Pappalardi, now back to his original role in Mountain as bassist and twin lead vocalist with Leslie West, produced Jack Bruce's classic "Songs For A Taylor" album - on which Spedding provided the guitar tracks.
And Sharks' drummer Marty Simon was brought up a drumstick's throw away from Mountain's drummer Corky Laing in Montreal. They've been close buddies ever since.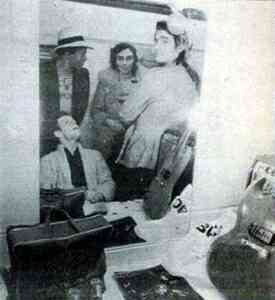 But back to North Carolina. NC is a State about half-a-day's Greyhound bus drive from Washington DC, or an hour's flight if you don't miss the plane (it wasn't my fault). The air is as sweet as honeysuckle. Actually it is honeysuckle in the air. And the girls are, well just listen to Snips (Sharks' singer, who's combining the tour with collecting comics and other American trash as well as singing rock'n'roll).
Snips is explaining why Spedding is now really opening up on stage, and the girls have a bearing on this: "There's beautiful brown breasts waving in his face - so you'd expect him to come forward. I mean, there's a bunch of chicks out there, waving at him and yelling, 'Come on, Chris, give us a solo,' you can expect him to open up. There's no word for those women out there."

THE SHARKS are travelling in a customised Greyhound Bus. You know the kind of thing - with eight track stereo (actually it broke down), master bedroom, swivel chairs, and it used to have colour television.
The bus has five million mileson the clock (almost unbelievable) and was once occupied by The Beatles on their first American tour.
That Beatles tour is not one the bus's driver, Tom boardon, from Nashville, Tennessee, will ever forget. He clearly remembers the incident in which Geroge ended up in a Florida jail after belting a cop.
Apart from that, the bus usually drives country singers around.
Right now Tom is driving the band the 80 miles from Boone to Burlington, and things are well under control. It's the 16th day of the tour, and the group are loving it. Snips talks constantly, enthusing about America. He's even thinking about moving there.
Marty Simon, who spent a long time in the South, is just pleased to be taking the Sharks' music to America.
Even Spedding, who doesn't usually do too much talking, can't contain his enthusiasm.
"So many people in Britain were, like, not confident in our success," complains the guitarist in Sheffield dead-pan voice. "We kept saying, 'Well, no, we're bloody great'. But so many people couldn't see it. We kept getting over-ruled about certain thing, and we couldn't get record companies interested.
"For instance, nobody in Britain thoughtthere was a single on the two records we've made. But over here they say 'Kung Fu' (from their latest album "Jab It In Yore Eye", originally recorded as a British single but now being released as a single in America) is great. And they also stuck out 'Ol' Jelly Roll', off the first album.
"When we get back to Britain people'll catch up. They'll think, 'Oh well, now it's hip to like the Sharks.' It makes yer sick."
But doesn't everybody get a good reception over here?
Spedding points out that Roxy Music, Slade and Bowie didn't exactly go down a storm. And he's right. But that sounds bitchy.
Piano player Nick Judd nods in agreement.
Here the Sharks know their music exists. They hear it on the radio - the "Jab It In Yore Eye" album is high on numerous radio station' playlists, and there are radio ads for their gigs.
Judd says: "You see, the good thing about america is that there's a build-up towards a gig, then there's something happens afterwards in the media. Things are always happening - and the concert is the climax."
Also, American audiences have a different attitude to supprt acts - like Sharks, and Robin Trower. Say Snips: "These people don't come to a concert to drink beer. they don't come to a concert to pick up a chick. They come because they want to get off. They want to be excited and entertained by the music and the show."
Sharks do, however, admit that they're more likely to appeal to American audiences because they have an American rhythm section.
"That gives us an American sense of space," says Snips. "But we've also got British songs, and British songs are the best in the world."

THE BUS arrives at the Ramada Inn, Burlington, and tour manager Jay Traynor starts organising things. You remember Jay and the Americans? Yes? Well, it's the same Jay, who's been involved in the music bisiness - either playing, engineering or tour managing - since 1956. And he knows his onions.
You'd expect him to have some good stories. and he has. Like the one about the Very Famous guitarist whose surname coincides with a certain area of London, North of the river. The guitarist was driving along the road in his Rolls when he knocked someone over. He was so paranoid/relieved when the person got up and walked that he gave him the car.
And Jay's also worked with Bobbie The Z as first guy to engineer "Times They Are A-Changin'." And he taught Bob how to drive his first-ever Ford Mustang back in the Village days.
Jay says he's worked with just about everyone short of the Beatles.
The gig is at Elon College, a few minutes' drive from the Inn, in the gym. In dressing-rooms in the Statesthere's a tub filled with ice, Coke, Seven-Up and Budweiser beer. A couple of bottles of Chianti are also laid on - but they get knocked down while the band tune up.
Leslie West and Corky Laing are fooling around in there as well. And, incidentally, West is about eight or nine times bigger than you thought he was.