Life can go speeding by as any rock and roller will tell you. When you are as good a musician as Chris Spedding, there is perhaps not that sense of urgency to make "the big time," as might affect the callow youth who dons leather jacket and aims to be a star by his seventeenth birthday.
And yet Chris has been a professional musician for about 15 years and his career has lurched in curious but fascinating fashion, never quite settling in any particular direction. That's the way he wanted it.
But now, Spedding is a man with a goal and a firm philosophy. And Spedding the Geetar Star is not such a wild improbability as it might have seemed in the days of Nucleus or even Pete Brown's Battered Ornaments.
For now it can be revealed, the man who was whispered as possible replacement for Mick Taylor with the Rolling Stones, has a hot single up his tee-shirt. And if it takes off on the golden road to Top Of The Pops, then we can expect an exciting addition to the roster of new stars for '75.
Chris was born in Sheffield but denies that he was ever greatly involved in the Sheffield scene, having gone to London at an early stage. From rock'n'roll bands to dance bands seemed not an improbably steps for the erratic Mr.Spedding, and he worked quite happily "on the boats," and with such respected senior musicians as clarinettist Nat Temple, whose band used to play on the old BBC Radio series Bedtime With Braden. In more recent years, Chris has worked with Ian Carr's Nucleus, in its "Elastic Rock" period, with the legendary Pete Brown's Battered Ornaments (one of the oddest bands to emerge in the sixties), with Mike Westbrook and Jack Bruce. And along the way he became one of those rock session men with well-worn telephones.
You'd be amazed to hear some of the sessions to which Chris has contributed. Would you believe the Wombles?
"I quite enjoy sessions as long as it doesn't get heavy, and you can be selective. I like to know who I'm working for. It used to be said the session scene was a closed-shop - but that's all changed now. It's still very important to the producer that the guitarist can read though."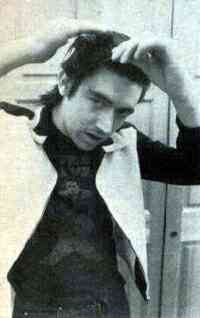 He looked up and said surprisingly: "I've made a single. It's coming out next month. Shall I play it to yer?
"I won't tell you what it's called." But as the tape reels rolled, it became apparent no performance could have no other title than "My Bucket's Got A Hole In It."
It wasn't quite the thing I had expected from a man who had held court in many a top jazz nitery, but there was no doubt, it had that rhythm all right. A cowbell beat, the guitar strummed a simple riff, while drums and bass provided the solitary accompaniment to Chris's husky vocals.
"This version is based on one I heard by Hank Williams.I did this after Sharks broke up, because it was so frustrating, not getting anything together. I thought I'd do a Top 40 record. Why not? Since I know how to do them. I tried adding more instruments to it, but it's so bare and simple like this, we left it alone.
"All this is what I'm into now. Nobody is making nice pop records at the moment. I know it's easy to say it, but you've got to follow your nose. The scene has changed. When I was doing so much session work before Sharks, I did whole LPs for other artists that never got released. Now the record business has got tighter. There's not so much money about now, and all that has finished."
In the last year, Chris was on half a dozen top ten records, and this has helped convince him that singles are more important, or at least more viable, than the instant solo album that sells a few hundred copies.
"Do people want to know this?" said Chris, when I asked which records he had played on. "Well most of the Wombles hits, and the David Essex hits. Yes, I played the guitar on 'Remember You're A Womble', and all the albums. I think the quality is better now because people have to try harder. But I also believe that the English scene is restricted by the opinions of the producer of Top Of The Pops. Record producers try to find something that will appeal to Top Of The Pops and that will get them on TV. That's why our pop scene is now so parochial, whereas it used to be international. It's down to what the TV producer thinks will make good TV."
It seemed that the regular rock group concept did not appeal to him, especially as the one time he threw his lot in with such a combo, its internal problems proved a painful ordeal. How did he feel when the band finally split?
"I felt really relieved. I was determined to stick it out, and I saw it through to the bitter end. I sat it out, and I'm glad I did. If I had left before ... well it might have broken big, and I would have missed it. It went down well at gigs and had its own following. If it hadn't had those personnel changes it might have made it. It never had a chance to be quite honest.
"Now I'm putting all my energy into this single. I used the old Sharks bass player and Clem Cattini on drums. Clem gets such a good feel, and because he has been around for such a long time, he gets overlooked and taken for granted. But he always comes up with a good drum sound."
What will Chris do if he finds himself with a hit?
"This idea is to get a scene going, so that I can have a career going as a solo artist. Rather than do an LP I'd sooner keep putting singles out, and if one was a hit, then I'd put a band together and go out on the road. The idea is to get out of that routine of scraping about doing cheap gigs."
One of the big buzzes that circulated the industry a couple of weeks ago was that Chris was a hot contender to replace Mick Taylor in the Rolling Stones. How do break this suggestion to Chris. he looked decidedly non-committal, and the subject had to be mentioned twice to draw a response.
Did the Stones ask you to join them? (Shakes head).
"No they didn't. And if I was in the Stones, I'd only be a back-up man, and I want to do my own thing. There's no truth in that at all. When Sharks came up I was ready for it. Now I have to think twice about joining another band - the way things are at the moment. The way the business is at the moment I couldn't afford to be in a band. You have to save up to join a band."