IT HAD taken a week or two to pin Chris Spedding down. When You're in demand and doing sessions at 8 a.m., 10 a.m., 2 p.m. and 7 p.m. every day, then even a couple of hours for an interview is difficult to squeeze in. When I arrived one Saturday morning at his bachelor pad (as they used to be called) in a quiet corner of Wombledon, he had evidently been working late the night before.
It was a bleary looking Chris Spedding who opened the door and fixed coffee as I gazed around his modern open plan house. The room was dominated by a real Rockola juke-box with tasty chrome trims and an excellent selection of soul singles "Well they make the best juke-box records", old stuff like Hank Williams, and a recent single of his own: Hank Williams' 'My Bucket's Got A Hole In It'.
A methodical record rack supplied the sounds which two massive Celestion 25 speakers would produce. The edge of the shaggy white carpet was being infiltrated with reels of Scotch tape marks 'G. G. Jingles', evidence of his work, a David Essex LP gave more. At the bottom of the bannister was a saddle, a reminder of the riding accident which left him with a permanently damaged wrist.
Since Busta Cherry Jones' non-appearance at a Biba's gig last October precipitated the final, acrimonious break-up of Sharks, Chris Spedding has been frantically busy. He stood turning down offers of sessions and in quick succession batted out his own single, which he describes as "garage rock, Eddie Cochran type stuff", played on the David Essex album, a Leslie Duncan album, jingles, Wombles and of course the John Cale and Roy Harper albums.
Right now, he's on tour with Cale and after that goes straight into rehearsal for the Harper tour. "I suppose I should be glad in a way, as opposed to lots of musicians sitting at home waiting for the phone to ring". On cue another phone call for another session interrupted the interview.

Skiffle boom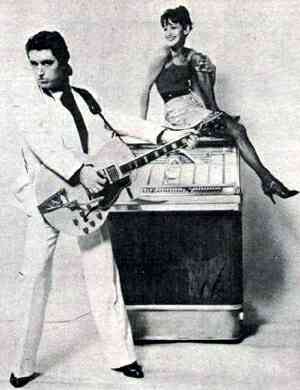 These days he can afford to be choosy about sessions, Sharks put his name about a bit, but it wasn't always so. On Gilbert O'Sullivan's session for 'Nothing Rhymed' he was called in and laid down a guitar part: "I listened very hard to it, but I couldn't hear the guitar at all. But two years later it was the red carpet treatment when I came into the studio for a Gilbert O'Sullivan session, and I remember staying behind afterwards and doing a lot of overdubs on guitar. Now I could have done all that before, but nobody asked me."
But it had been a long haul before Sharks: it all began when he played violin in school, then along came rock and roll which "had quite an effect on me" and the skiffle boom "so I ditched the violin for a guitar."
Gigs in school groups around Sheffield followed. "I left school after a disastrous carrer, came straight down to London and worked in a music shop playing in semi-pro groups in the evenings." This was about 1961 and the beat boom was beginning: "I missed out on all of that. It just didn't interest me. I must have got sidetracked into jazz. I suppose I was a bit too serious-minded in those days." So he listened to Sonny Rollins down at Ronnie Scott's, and learnt guitar listening to Jim Hall and Grant Green.
Then he turned pro, played in a band on a nine-week round boat trip to australia and got sacked for mutiny: "Accused of mutiny on my first professional gig!" So he returned to London to play society affairs at the Dorchester and places of that ilk, in bands like Nat Temple's.
Turing pro had disabused him of some of his serious ideas: "I'm not one of those people who thinks I've got to play my stuff my way or lose my individuality. That's a load of rubbish. It fucks people's heads up and keeps them in their front room worrying about it. There's a lot of satisfaction in the professional side of it, as opposed to the artists side, but you've got to have the two."
Next came Pete Brown's Battered Ornaments, a real gig with a band composed in the main of old mates like Dick Heckstall-Smith. When that broke up, the Pete Brown connection brought him onto the sessions for Jack Bruce's 'Songs For A Tailor', and people began to talk about this new guitarist with the sharp attacking style. "It was my first experience of studio methods. I always think I could have done better. As soon as we went on the road, I played what I thought was the song. 'Cos I'm into songs. The fourteen minute solos - I've always hated that, even when I was an out and out jazzer."
Corny
Then Jack decided to break up the band 'just overnight' to take his place in West, Bruce and Laing, and Chris found himself in demand as a sessioneer. At the same time he played in various jazz and jazz-rock outfits like the Mike Westbrook and Mike Gibbs bands, and got a reputation as a jazzer: "Which was a bit strange because I wasn't playing in a jazz idiom at all by then. earlier I would have done, but I was playing pretty staright-ahead rock. The jazz musicians would think it was fantastically new and fresh and I'd be playing corny old Steve Cropper stuff."
And of course alongside this was an eighteen month-spell with Ian Carr's Nucleus. "taht band was started with a lot of promise and I really liked the first album but it degenerated pretty quickly; but Ian Carr hasn't been told. It could have been so much bigger."
And there were the sessions, right up to and during Sharks; sessions with Dusty Springfield, Richard Harris, Shirly Bassey, Dana Gillespie... "It's who I didn't play with really, isn't it?"
Then came Sharks, launched in a blaze of publicity - the bass player from Free, Andy Fraser! Chris Spedding the session-junkie forsakes the studio for a full-time band! - and then the crash of the Sharksmobile put them off the road: "It was an act of God. The first in a long catalogue of errors. I thought I knew it all, but never having been in a group before I made all the mistakes that a young spotty kid would make going into his first group - after ten years as a professional! We didn't even have any management until very late on, until too late in fact."
Fortune
There were money hassles, they laid out a fortune on equipment hire that Chris is still paying off. Fraser left, Busta and Nick Judd came in, internal hassles ruled, nore people came and left, Island seemed unsure whether they believed in the band or not, and never released a single, initial enthusiasm dwindled away. Finally a third album, produced by the Ox, John Entwistle, met with a chill response: "The first mixes were taken around people in the business. Island didn't like them, we talked to a few other companies and they didn't like them." Entwistle had been brought in to cool everyone out in the studio: "There were so many tensions that the only way we produced any music at all was with an incredible amount of hassle. But that was probably the thing that was producing all the music."
Then came Biba's and Busta split, and that was it.
But Sharks did make people see Spedding in a new way: 'People didn't think of me as a candidate for that sort of band before. Now they do. Before the Sharks nobody would have mentioned my name for the Rolling Stones."
And what about the Stones?
"I don't suppose they'd ever ask me to join. They'd say : Come and have a play. And if they liked that I'd be asked to play on a session, and then I'd be asked to do the album, and then a tour and then after about a year I might get asked to join. Then after five years, they'd still calling me the new boy." We were speaking before it was announced that Ron Wood play the Stones US Summer tour; but unless the Faces have hit the rocks for good, a full timer's post is still open; and in those parts of the world where rumours are made, they are still talking of Spedding as one of a very, very short, short-list.
Strange
But Spedding still has his eyes set on singles. 'Bucket' is only the start, he expects to find acouple of free days from touring to lay down another, and he's begun to write for other people. And talking of other people, Chris was recently seen at the Rainbow checking out his old mate Andy Fraser's band: "The album isn't bad. It's a strange band, you've got Nick Judd playing bass pedals you can't hear, and Andy not actually playing the bass, he's trying to play a bit of lead guitar off the top. One of this country's most remarkable bass players for that sort of music; that is a real style that he started in a way, and he's not even bothering to do it now!"
Spedding's own plans include the singles, and he and Snips are tentatively talking about his producing Snips projected solo albums, on which he may play bass. And of course there will be more sessions.
But the singles lie close to his heart: "Ive sat down with some of the best musicans in the world, and there's not been a word said. Right first time. Light on. Fantastic track. Hit! And it does actually happen like that occasionally. I'm really gonna make some hit records. I've made enough for other people to know how it's done.