HE'S GOOD TO WORK WITH; you never know what he's going to do... like counting in a number in a completely different tempo. He always starts a number by himself because we never know which way it's going to be. It keeps you on yer toes. It's quite a ... sort of ... inspiring in a way. You know sort of ..."
Stimulating?
"Year. Stimulating."
Chris Spedding flicks back a lock of black greasy hair and is clealy excited. So much so that he has broken out in a rash of bona fide punk acne
Spedding is relating his experiences of playing guitar with John Cale - a role in which he has continually excelled himself to the point where he is being heralded as this month's Virile Axeman centrefold.
At 31, Spedding is still one of the most versatile and in demand session guitarists in the country. He started playing during the skiffle era - on violin - got sidetracked into jazz - "a very serious-minded intellectual period - I was very snobbish about pop music" - before forming Pete Brown's battered Ornaments in 1967. Through Brown he met Jack Bruce and worked on "Songs For A Tailor". His name began to get about and he embarked upon sessions for almost everybody making records at the time - Lulu, Dusty Springfield, Frankie Vaughan, Georgie Fame etc. He then joined Ian Carr's Nucleus for a couple of albums and with Andy Fraser formed the now-defunct Sharks. He is now playing with Roy Harper's Trigger. He appears in Michael Wale's "Vox Pop" book as spokesman for for the role of sessionman.
Mike Batt of Womble fame, was one of his "tutors">
"Yeah. I've been working with Mike Batt for five or six years. He's great. And he's really been trying hard all this time to get a hit..."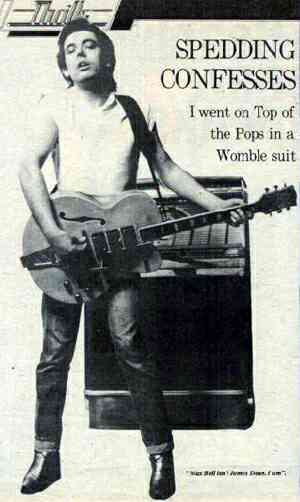 You suffered any stick for it though?
"No. Why should I?"
You're respected.
"I've actually told people I've worked on Wombles singles just to do that" (he flicks a v-sign) "to 'em. I'm a bubblegum session man. I want to enjoy myself...
"I've been on Top Of The Pops you know. In the suit. As Wellington. It's great. You can clock all the chicks and they don't know you're lookin' at 'em.
"The only thing is it's hard to sign autographs with those things on."
The demise of the sharks bears further investigation. Good band they was...
Spedding had originally formed Sharks with former Free bassist Andy Fraser.
"He's a very positive young man and he thinks he's getting it together." Spedding opines. "...but nothing ever seems to happen."
Could the blaze of publicity and the tag of Island's great White Hope that surrounded their inception have worked against them?
"No. Because it wasn't really co-ordinated. We never really had a manager. We wanted to be managed by (Island chief) Chris Blackwell but he said he didn't have time, so we got some other guy ... a hell of a lot of oney was wasted."
Naturally enough, the band has an unreleased album in the can. Those of the cuts Spedding played me sounded amazingly good.
Had the album been released and properly promoted Sharks would undoubtedly have stayed together. As it was, Spedding availed himself of theopportunity to turn down Mick Taylor's gig in the Stones.
Turn down The Stones???
"My schedule was too full," Speddo states flatly. "It would've meant cancelling the Roy Harper tour."
"It might seem a bit presumptuous of me to say to Jagger 'sorry Mick, I'm working' but it's not quite as simple as that. They've been looking for a guitarist for six months - they've even had Beck down there. And he's not playing with them."
So? Beck is notoriously hard to work with. You're far more pliable.
"But I was around all that time and they never rang me," says Spedding slightly desparingly.
The Sharks split up at around the same time that Mick Taylor left the Stones - there I was, lead guitarist from a group that'd just broken up, itching to get straight into something else straight away. And I was there and they knew about me."
"People had been talking about me being the obvious choice as soon as Taylor left. I thought 'alright, let's wait for the phone call then.' I waited two weeks. Nothing happened. I had to start thinking about making some money again..."
So how did you leave it?
"Well I told Mick that we'd have to get together for a blow. It'll probably happen eventually if they don't keep Ron Wood. They'll get round to it again - I don't know if they think I rejected them - but I haven't," he adds somewhat worriedly. "It was just that Jagger rang up so casually. All he asked me were what my commitments were and that was it. He didn't say 'break your commitments'."
In the meantime Spedding has extricated himself from Island and signed with Mickie Most's RAK label as a single artist - his first solo single, "Motorbikin'" - with him posed rakishly with eyeshadow. jukebox and snout-smoking harlot on the front sleeve - is to be released shortly.
"It's typical Eddie Cochran/garage rock," states Spedding. "I like to think that if I can turn people on with the kind of thing that turn me on when I was 13 or 14 years old then I'm quite justified in being a professional musician.
"In any case," he added, "bubblegum pop music is what the business is all about, isn't it?"