HONESTLY, I just had to laugh. B.P.Fallon, self styled entertainments manager fro Roy Harper (and the now seemingly defunct Trigger), had dragged himself around to the office in his usual state of harrased decay, clutching a copy of Chris Spedding's first solo single for Mickie Most's Rak label. I couldn't believe it. I couldn't believe it. There was Spedding on the record sleeve looking like some advertising directors' vague notion of a teenage idol. Chris Spedding as a teen-idol, stirring the hearts of a thousant adolescent schoolgirl?

We played the record.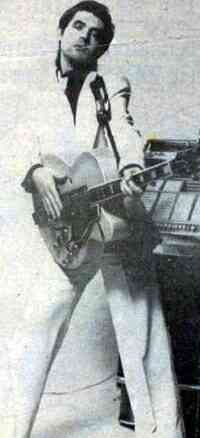 I couldn't believe that either. A surrogate Eddie Cochran vamp called "Motorbikin'," complete with sound effects, chick back-up vocals, and Spedding delivering lines like "Too fast to live, too young to die," with all the vocal animation of a Yorkshire biker casually crawling away from the burning wreck of cycle after a pile up on a Sheffield ring road.
All that commanded my attention was Spedding's furious solo ... overall, I was much more interested in discovering the phone number of the chick perched on the juke box behind Spedding on the sleeve.
Then, I heard the record on the radio. It sounded perfect music for cruising along in a beat up Zephyr, and it all began to fall into place. Spedding has never disguised his ambitious to carve out a piece of the silver for himself, and this - after the failure of his latest single, "My Bucket's Got A Hole In It" - seemed a logical step. Especially, when one recalled a conversation with Spedding just before the Harper/Trigger tour.
"The idea is," he said, a hint of conspiracy evident in his voice, "to get out some singles, maybe three or four. And I want them all to sell in vast quantities. Then I'll start on an album. I want that to sell in vast quantities, too. Then, I'll consider that I've got an audience large enough to support a band and fill a few concert halls ... that's the plan."
He didn't, at the time, sound as if he believe the strategy to be infallible. Anyway, he didn't want to say too much because he was negotiating a release from his contract with Island (with whom he'd been signed since the inception of Sharks), and preparing a new deal with another company. He wouldn't say exactly who, but with a raise of the eyebrows and a furtive glance across the room towards Harper and entourage, he intimated that, "Mickie Most might be in-involved."
He signed Spedding to Rak, and produced the single.
Still, it does remain different to reconcile Spedding's past achievements with his present commercial aspirations. From the intense session with Jack Bruce, John Cale and Roy Harper, he's always balanced his career on a precarious artistic precipice. When you put names like that up against his lucrative session work with the likes of Mike Batt, the Wombles and Essex, it's little wonder that Spedding confuses people.
It's a situation he appreciates, and hopes to resolve with the success of his singles, and proposed albums. Such a success would establish him as a complete identity rather than as the lurking figure who one week occupies the stage with Cale, the next week with Harper, with all manner of sessions in between.
"It's not that I'm frustrated," he insists. "I am fulfilled as a musician in all these situations. It's just that I've been involved with all these people who've sold millions of records. I thought it was about time I had a go myself, see?"
Let's not forget at this point that Spedding has recorded two solo albums, "Backwood Progression" and "The Only Lick I Know," neither of which presents a potential challenge to "Dark Side Of The Moon" or "Tubular Bells" in the all time best seller stakes. They were both, in fact, virtually overlooked, as was his innovative work with the Battered Ornaments back in the dark and distant days of 1968.
The first of these solo albums, he recalls, was "all right. It's for you to say if it was any good. You do think it's good ... oh ... Yeah, well, it was alright. The second one doesn't sound like an album, though. It's very disjointed. It sounds, to me, like a lot of out-takes.
"I now think that you shouldn't go into the studio unless you're going to produce something that's going to sell lots and lots of copies. It's very exciting producing records that sell millions of copies. I go into the studio, now, and I try to produce something that's going to be a million seller everytime.
"I know some of the greatest record producers in the world. 'Cos I've worked with them all, and therefore, I was in a position where I could pick the one who would be most suitable to record with me. Like I didn't want Phil Spector because I knew that he'd produce a Phil Spector record, not a Chris Spedding record. I wasn't after that. So I picked Mickie. I knew that he'd produce my record and make it sound like me."
Chris has previously expressed some disappointment at his non-appearance "in those bloody polls." He's well justified in feeling this disappointment, especially when you consider that he could whip the ass off most guitarist in the country. One wonders if this situation has arisen because he has chosen to disperse his talent over so wide a field.
"No. I don't think it's that at all, I think it's more because I've not been in a big group and sold lots of records. I mean, I've been associated with a lot of bands, but I've not been associated with one person in the same way that Mick Ronson was associated with David Bowie. I've never had a big onslaught of publicity behind me. It's not been the same, has it?"
It's impossible to convince Spedding that enough people admire his work to want the opportunity of seeing him in a more individual spotlight..again, he has to establish himself as a commercial success, he feels. At the moment he's been exposed to such a wide audience, through his work with Essex and, on the other extreme, his work with, say, Cale. It would seem somehow natural that his eventual audience would be drawn from his contributions to the latter ... a natural assumption until Spedding steps in curtly with: 'Look, I can't see the difference.
"All these people make good records, that's why I work with them, don't I? There may be certain aspects of David Essex's persona that put people off. Because there are people who think that he's geared to appeal to people without imagination or intelligence. Like 13-year-old girls.
But those 13-year-old girls would be most upset to hear that. And by the same token, Roy Harper, his whole persona is geared to appeal to potential ... I don't know ... drop out. And a lot of people hate that."
Hence the utter commercial design of "Motobikin'"?
"Yeah. What's so wrong about that ... I mean, if it is a hit, the first of many I hope, it would be the solution to this confusion you keep going on about. It'll mean that people will stop having to go to so many diverse sourse to hear my music. And, there's no point in limiting your appeal.
"I want my records to be well made, very commercial and in lots of peoples front rooms. That's what it's all about, and it's one issue on which I absolutely disagree with Roy Harper. In as much as he doesn't consider himself to be an entertainer and I do.
"That's why, on stage, I sometimes get over to an audience more than he does, It's ridiculous I should do that, but he can't because he thinks it's his job to be an artist, and an entertainer not second, but not at all!"